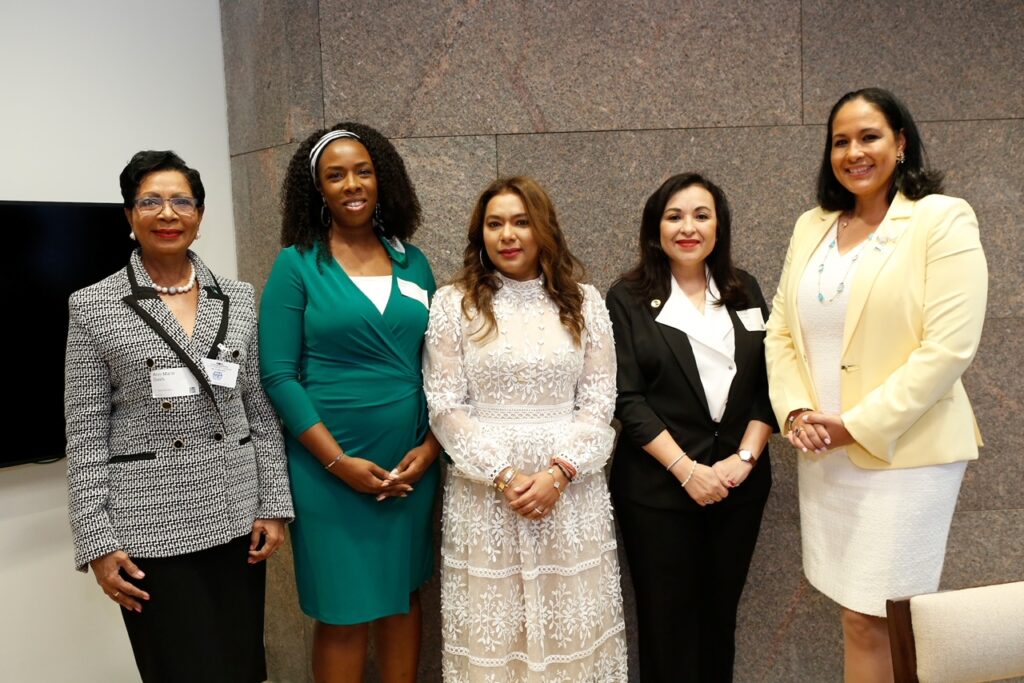 On September 18th, 2022, the Spouses of CARICOM Leaders Action Network (SCLAN) in partnership with The Commonwealth Secretariat, UNDP Country Office Belize, United Nations Foundation, and PANCAP, held their fourth annual side event in the margins of the 77th United Nations General Assembly. This year's event was held under the theme, Health Financing and Gender Equality.
H.E. Mrs. Mellisa Santokhi Seenacherry, First Lady of the Republic of Suriname and Vice-Chair of SCLAN, opened the event with the welcoming remarks along with H.E. Mrs. Rossana Briceno, Spouse of the Prime Minister of Belize, Special Envoy for the Development of Families and Children, and Chair of SCLAN, and Mr. Werner Obermeyer, Director of the World Health Organization office at the UN Headquarters.
The keynote was by H.E. Helen Clark, Former Prime Minister of New Zealand and Former Administrator of UNDP followed by the Youth Champion, Ms. Renee Atwell, Attorney at Law, Dean of the CARICOM Youth Ambassador Programme.
Ms. Renee Atwell quotes, "The pandemic has shown that capacity building, data gathering, and analysis are all required in responding to public health emergencies and these all require financing."
Representatives of regional and international organizations participated in a panel to discuss the theme, "Health Financing and Gender Equality." The Panel began with Dr. Ulla Griffiths, Senior Advisor, immunization Financing and Health Systems Strengthening at UNICEF. She emphasized, "We keep talking about having weak health systems. We need to acknowledge that the health system is complex, we must invest in human resources, there are no quick fixes."
The second panellist, Dr. Emma Iriarte, Executive Secretary, Mesoamerica Health Initiative, and InterAmerican Development Bank shared her own thoughts and quotes, "The empowerment of girls, increasing maternal and new-born health, reducing adolescent pregnancy – these are complex issues, and we need many partners."
The third panellist, Shu-Shu Tekle-Haimanot, Senior Manager for Health and Financing Advocacy at The Global Fund, highlights, "Global cooperation and the widening of partnerships are needed to help us realize the Commonwealth we want – healthy and well positioned for the next generation."
The final panellist to join was Mr. Manasseh Wandera, Executive Director, of the Society for Family Foundation Rwanda. He emphasized, "Our work has always examined these issues from a gender lens. Our new strategy–one of the main components is working on removing barriers, improving human rights, and looking at structural issues that impact women, girls, and other marginalized groups."
The event was closed by H.E. Mrs. Kristin Burt, Spouse of the Premier of Bermuda, Executive Member of SCLAN.