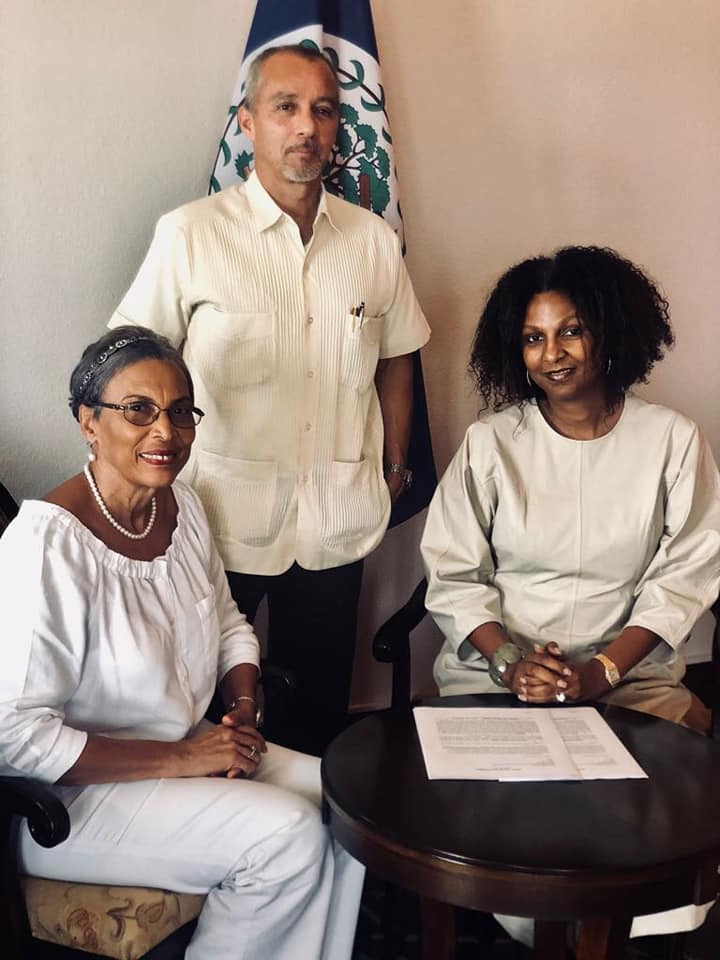 The Spouses of CARICOM Leaders Action Network (SCLAN) is pleased to announce the receipt of grant funding from Gilead Sciences Inc. for initiatives under the theme "Transforming Lives through Innovation: Implementation of high-impact prevention programs for adolescents, young men and women".
The Grant will facilitate the establishment of the SCLAN Secretariat that will be housed in Belize, and two demonstration projects in Belize and Guyana. The Secretariat will be tasked with the oversight of projects, resource mobilization, information sharing and coordination of the Network's activities across the region.
Mrs. Kim Simplis Barrow, Spouse of the Prime Minister of Belize and Chair of SCLAN states that, "This grant comes at a time when the need for sustainable health initiatives for the well-being of our vulnerable population is at an all-time high. We are very fortunate that the views and objectives of SCLAN are well aligned with those of Gilead Sciences Inc."
The demonstration project in Belize will take place in a Southern District that is experiencing high rates of new HIV infections. It is envisioned that through the implementation of innovative strategies made possible by the Grant, there will be a reduction of new HIV and other sexually transmitted infections by 2020.
Activities will complement those already being implemented in the country's national response to HIV/AIDS/TB. An important feature will be the sensitization, introduction and rollout of PrEP as a further initiative in the prevention of new HIV infections.
In Guyana the demonstration project will allow for the implementation of a programme similar to PEPFAR's DREAMS – Determined, Resilient, Empowered, AIDS-Free, Mentored, Safe – which was successfully launched in Sub-Saharan Africa. It encompasses HIV testing, treatment and prevention, with social protection interventions to keep girls in school, for economic development, ending gender-based violence and linking men and boys to health services. The partnership with Gilead Sciences Inc. will help these countries meet their goals.
The Projects in both countries will target females and males (16-24 years), in and out of school, for activities toward the achievement of a productive and healthy future for themselves and their families. They will be engaged in initiatives related to decision-making and negotiation skills, increasing their knowledge of HIV/AIDS/TB prevention, and the acquisition of skills to prevent and manage sexual and domestic violence.
The creation of SCLAN as a non-governmental organization was endorsed by CARICOM Heads of Government at their Inter-Sessional Meeting in Guyana in February 2017. It was formally established last September, with H.E. Kim Simplis Barrow, Spouse of the Prime Minister of Belize, being elected Chair. SCLAN's mission is a Caribbean free from HIV, gender-based violence, teenage pregnancy and cervical cancer, with long term goals set forth by the global community including former UN Secretary-General Ban Ki-moon's Every Woman, Every Child Global Initiative and the Global Strategy for Women's, Children's and Adolescents' Health (2016-2030) Documents being signed by Hon. Kim Simplis- Barrow, Belize's Special Envoy for Women and Children and Chair of the Spouses of CARICOM Leaders Action Network (SCLAN) accompanied by Speaker of the House Mrs. Laura Longsworth while Dr. Ramon Figueroa, Chief Executive Officer of the Ministry of Health of Belize looks on.